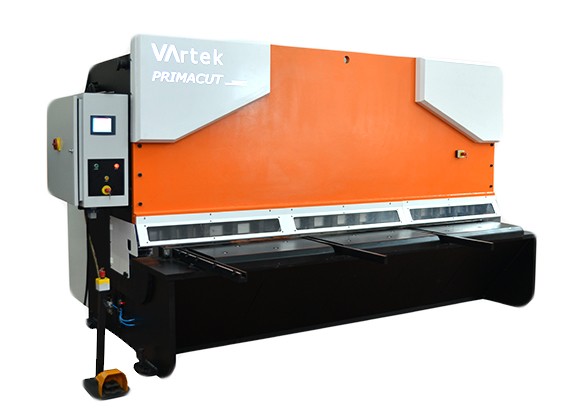 STANDARD & OPTIONAL EQUIPMENTS
Standard Equipments
Rigid frame designed on SolidWorks with stress and deflection analysis, welded by certified welders and machined to 0,01 mm precision in single piece.
Hardened&Ground cutting blades in sections.( Bottom 4 sided, top 2 sided)
Cybelec Cybtouch 8 controller with EasyCut feature.
1000 mm backgauge running on ballscrews.
1000mm squaring arm and front support arms
Sheet sliding panels at the back
Hoerbieger Hydraulic System
Siemens electrical system
Hydraulic hold downs
Illuminated cutting line
Automatic Blade Gap Adjustment system
Automatic Stroke adjustment
Automatic cutting angle
Automatic Lubrication System
Optional Equipments
Pneumatic Sheet Support System at the back (to support thin sheets during cutting)
Sheet Conveyor and Stacking System
Oil Cooler and Oil Heater
Light Barriers on the front for finger protection
Laser Cutting Line
Front Angle Gauge for tapered cuts
PrimaCut's user friendly touchscreen control unit lets you program your backgauge and automatically adjust the blade gap and cutting angle in one simple-designed working page.
PrimaCut's backgauge has 1000 mm stroke with swing away functionality and runs on ballscrews for maximum precision.
PrimaCut has automatic Angle Adjustment for better cutting quality.
Blade Gap is automatically adjusted when you enter the thickness of the material on Cybtouch control unit.
The other standart feature of the EcoCut is Cutting Stroke Adjustment which is also automatically adjusted when you enter the length of the plate.
Automatic lubrication system lubricates moving parts at a specified number of strokes and prolongs the life time of critical components.
© 2018 Vartek Machinery All rights reserved