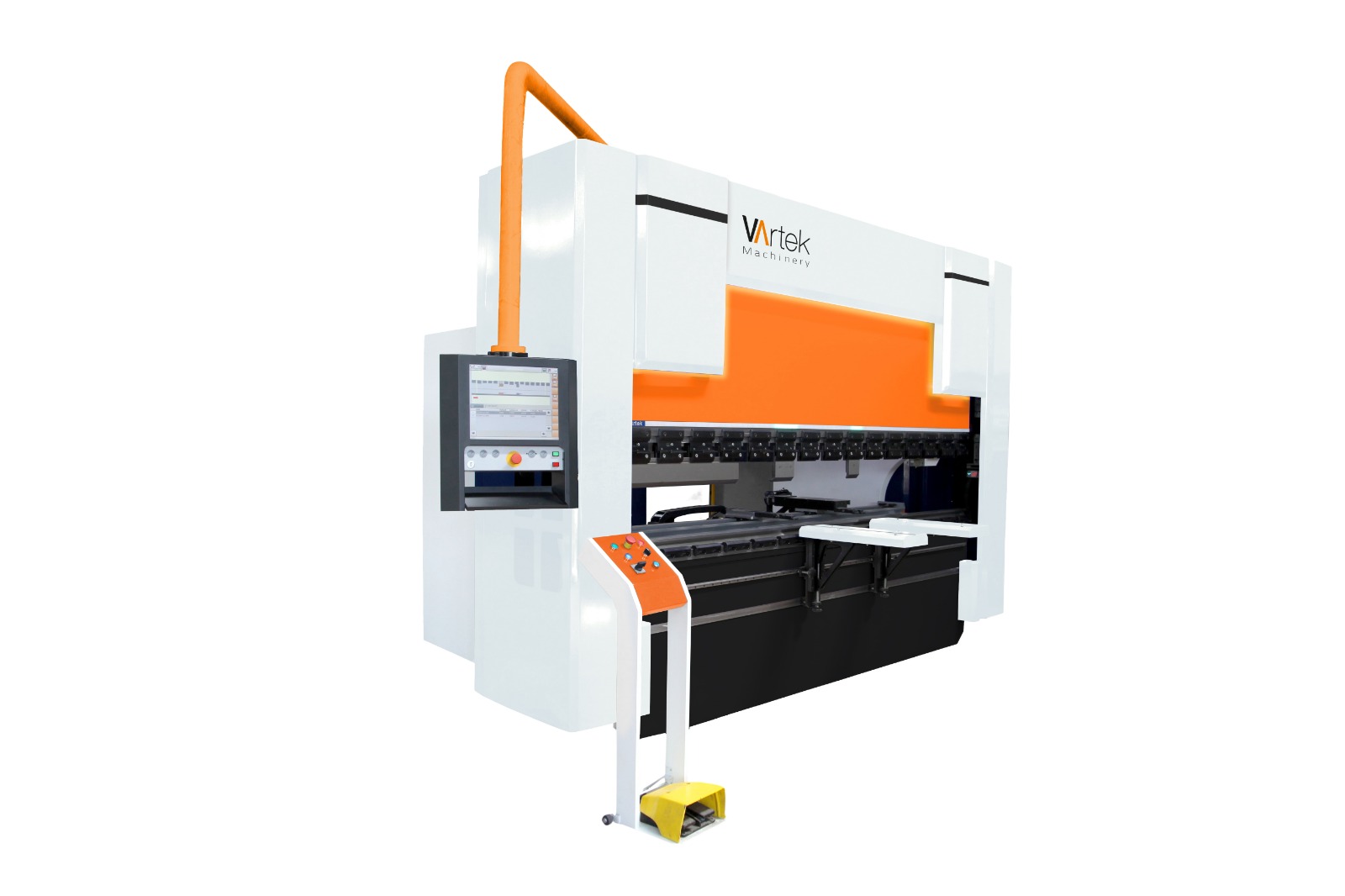 We know how hard it is to find experienced press brake operators, how hard it is to train rookie operators and our primary goal was to create a control that can be run by anyone. And when we say anyone, we mean it! Please ask your local dealer for a hands on demo and you will see what we mean!
STANDARD & OPTIONAL EQUIPMENTS
Standard Equipments
Rigid frame designed on SolidWorks with stress and deflection analysis, welded by certified welders and machined to 0,01 mm precision in single piece.
NexT 3.0 17″ 2D/3D graphic touchscreen control.
Dependable servo hydraulic system provided by Hoerbieger.
Honed, chrome covered cylinders with high precision ground pistons.
Y1-Y2 synchronized hydraulic cylinders running on dual ram guides on each side for smooth ascend and descend.
6 axis backgauge (X1,X2,R1,R2,Z1,Z2) running on ballscrews with servo motors and independent finger blocks to easily gauge complex parts and tapered pieces.
VisioForm LED bend guide system.
Hydraulic punch holder with vertical mount, auto seat and auto align function.
Hydraulic die holder with one touch lock mechanism.
High stroke and daylight for deep box/panel bending.
500 mm throat depth to utilize full length and deep bends.
High resolution linear scales with an accuracy of 0,01 mm for precise bending.
Automatic crowning of die bed for even angles along full length of bend.
Front support arms sliding on linear guides to easily gauge small parts.
Oil coolant to maintain optimum oil temperature and consistent bends in long runs.
Optional Equipments
Front laser guards for finger protection.
Custom design throat, stroke and daylight.
CNC controlled bending aids in front to easily handle large plates.
Real time angle measurement and correction system.
Large selection of punches and dies.
Tandem Preparation
Automatic Lubrication System
Easiest tool changing system
PrimaForm equipped with the easiest tool changing system you can find. With hydraulic tool clamping system you just mount your punch into the holder vertically and press the clamping button. The system will auto-seat and auto-align. You are done!
Our unique tool locator is a strip of LED lights that sit right above the punch clamp and will help you set up your tools easily by lighting up the exact spot you need to mount your tools.
This multi axis backgauge allows you to easily bend tapered (conic) parts without the hassle of marking the bending lines.
DXF Import & Offline Software
Turning blueprints into parts is another process that can be time consuming and a productivity killer. No more with PrimaForm. You get a free copy of offline software that will run on your computer. You can create part programs in 2D or 3D and send to PrimaForm via network connection or transfer them on a USB thumbdrive. Just load your DXF directly to the control or on the offline software and watch NexT magically transform a flat drawing in to a 3D part.
When you program a part, the autotool feature will search your tool library and will offer you the right punch and die for the job in hand.
This feature not only reduces your electric bill and help save the environment but also prevents the hydraulic oil from reaching high temperatures therefore keeps the angles consistent from the start of the day to the end.
© 2018 Vartek Machinery All rights reserved